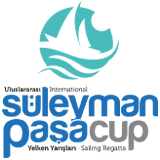 Suleymanpasa Municipality, Turkish Sailing Federation and Tekirdag Sailing Club will host the VI.International Suleymanpasa Optimist Cup. The event will be held from 1th to 5th September 2022 and the venue will be in Tekirdag/TURKEY.
Tekirdag Sailing Club has special conditions for all teams. Accomodation will be free (It is limited to 2 support person and 8 sailors per each team) ( includes breakfast, lunch box, dinner, transportation services between hotels and the sailing club ). Süleymanpaşa Municipality provides all the sailors free museum tours and funfair activities.
The Organization Committee will provide free transportation from İstanbul Airport to sailing club for whom send his flight details.
If you like to have strong connections with the sea, take a step and have the chance to get the honour of the sailors who made the sailing as a life philosophy.
REGATTA PROGRAMME
1 September 2022 Wednesday         11:00               Registration and Measurment
                                                                13:00               Practice Race
2 September 2022 Friday                   11:00               Races, First Warning Signal
3 September 2022 Saturday              11:00               Races
4 September 2022 Sunday                10.00               Cherry Country Cup Races
                                                                12:00               Races
5 September 2022 Monday               11:00               Races
SOCIAL PROGRAMME
1 September 2022 Wednesday         17:00               Opening Ceremony
2 September 2022 Friday                  17:00               Museum Tour
3 September 2022 Saturday              10:00               Cherry Club Cup Activities
3 September 2022 Saturday              20:00               Fun Fair Entertainment
4 September 2022 Sunday                 20:00               Cinema & Karaoke Party
5 September 2022 Monday               18:00               Closing Ceremony
CONTACT
Tekirdag Sailing Club
Ertugrul Mah. Eski Barbaros Cad. No:2 Suleymanpasa/Tekirdag/TURKEY
www.isocup.org / +90 532 159 58 85 / info@isocup.org